UNDERWOOD SAFARI
Day 1 & 2 South Africa - Cradle of Humankind
Day 3,4 & 5 South Africa - Private Game Reserve
Day 6,7,8,9 South Africa - Cape Town
Day 10 & 11 Zimbabwe - Victoria Falls
Day 12,13,14 Namibia - Chobe River boat
Day 15 & 16 Botswana - Moremi Game Reserve
Day 17 & 18 Botswana- Okavago Delta
Day 19 Departure
Day 1 & 2 Arrival
Arrive at Johannesburg International airport. Airport meet and greet with 25 min transfer to Glenburn Estate.
Glenburn Lodge & Spa is situated in the tranquility of the Zwartkops Mountains, on the banks of the Blaauwbank and Crocodile Rivers.
Situated within the newly declared World Heritage Site , the "Cradle of Humankind", this 100 bedroom hotel, conference, wedding venue and spa is a mere 30 minutes from both Johannesburg and Pretoria.
The natural scenic beauty of Glenburn Lodge & Spa makes it the ideal setting for conferences, product launches, think-tanks and team-building exercises. The Conference Centre seats up to 600 delegates across eight conference rooms. All rooms are fully equipped with state of the art conference equipment.
2 Nights at Glenburn Lodge (B&B)
Day 3 Hot Air Balloon ride
5 am Hot air Balloon ride!
Following your hot air balloon ride and breakfast, you will be accompanied on a 3 hour road transfer to the Welgevonden Game Reserve.
Arrive at Clifftop Lodge.
Created as a tribute to the unique splendor of the African Wilderness, Clifftop Exclusive Safari Hideaway towers over the landscape, combining modern African living, simplicity and an abundance of flavor with a unique wildlife experience.
Eight luxury suites overlooking the flowing Sterkstroom River each enjoy their own private deck and plunge pool perched on the cliff, allowing guests the opportunity to view game from the privacy of their suites. Situated in the Malaria free Welgevonden Private Game Reserve in the Waterberg Mountains, Clifftop Exclusive Safari Hideaway is a special place where service is understood and luxury is elegantly understated.
The lodge offers a dramatic fusion of African and Western cuisine, far surpassing expectations of even the most discerning diner, with the addition of an extensive wine cellar, any wine lover would appreciate. Clifftop Exclusive Safari Hideaway is a place where one can retreat in an intimate oasis of relaxation inspired by an awareness of well being.
1 Night at Clifftop Lodge (Full Boarding)
Day 3,4,5 WELGEVONDEN GAME RESERVE
Welgevonden Game Reserve occupies a magnificent section of the Waterberg Biosphere. With a size of 37,500 hectares, it has the largest population of white rhino to be found in all of Africa. Surrounded by rivers, mountains and bushveld,this private reserve has never been used for game hunting, so the wildlife is more relaxed and approachable.
This Heritage Site of 36 000 hectares, is home to the Lion, Leopard, Elephant, White Rhino, Cheetah, Brown Hyena, 15 different types of buck, and 30 other species of mammal.
No private vehicles are allowed within the reserve, to limit the human impact. The high altitude and temperate climate make it an ideal destination to be visited all year around.
3 nights at Clifftop (Full boarding excl. drinks)
Day 6 Cape Towm
Morning return road transfer to Johannesburg airport - 2 hour flight to Cape Town.
Arrive at Enchanted Guest house. Located in the heart of Bantry Bay where sea, mountain and city are exquisitely blended. We are a minute walk away from Saunders Rock Beach on the Atlantic Sea Board of Cape Town and we also have Lions head protecting us from the South Easter when it blows.
This Victorian home has a calm and peaceful atmosphere "home away from home feeling", with a modern approach to hospitality and friendly staff. Eight elegantly furnished bedrooms which are spacious and most with a private patio or balcony with captivating sea or mountain views.
Rooms are fully equipped with en-suite shower, air-conditioning unit, comfortable beds, modern flat screen TV's, hairdryers, coffee/tea station, a mini fridge and a safe. We provide our guests with pool/beach towels on request as well as airport transfers and guided tours. As complimentary every guest has free wireless Internet Access.
Spend the day at leisure at world famous Victoria & Alfred Waterfront…
Situated at the foot of Table Mountain, within a stone's throw from the Cape Town Stadium and in the heart of Cape Town's working harbor, the V&A Waterfront offers the visitor an abundance of unforgettable experiences. Indoor shopping and entertainment venues seamlessly merge with ocean vistas and mountain views and the fresh sea breeze and warm African sun add zest to a cosmopolitan, vibrant atmosphere. More than 80 restaurants bring a fusion of international food, from rustic al fresco fish and chips to starched table-cloth cuisines – there is just so much to do, so much to discover.
The V&A Waterfront is South Africa's most visited destination, attracting millions of visitors every year – and for good reason. Whether you're looking to go shopping, dine at top restaurants, party at local nightspots, visit tourist attractions and museums or investigate the city's historic harbor, you'll find it all here. (Construction for this harbor began as early as 1860, when Prince Alfred tipped the first stones for the breakwater, hence the attraction's name: V&A after Queen Victoria of England and her youngest son Alfred.)
If you're interested in visiting Robben Island, you'll find the Nelson Mandela Gateway at the Waterfront.
1 Night at enchanted (B&B)
 
Day 7 Cape Peninsula & Cape Point tour
Visit scenic Peninsula Area… See the Southwestern most point of Africa!
Travel along both coastlines with lovely views.
Visit Hout Bay Harbor with optional boat trip to see Cape Fur Seal Colony.
See African Jackass penguins at Boulders Beach.
Visit Cape Of Good Hope Reserve - do the Atlantic and Indian oceans meet here
1 Night at enchanted (B&B)
Day 8 Great White Cage diving
Sharks are quite possibly the world's most feared animals. From the smallest sand shark to the enormous whale shark,they are sleek, muscled, and some are almost as agile as a dolphin. There is no doubt that they are the most evolved predators in the ocean! Row upon row of teeth and capable of sensing the blood of an injured animal from over a kilometer away, its not surprising that they are the most feared creature beneath the waves. And of them all, the Great White is the most awesome. Now, dive and meet a Great White Shark, face to face - and on your own terms!
Spend the rest of the day exploring the Victoria & Alfred waterfront!
1 Night at enchanted (B&B)
 
Day 9 Cape Wine lands Tour
Considered by many to be the true heart of the Cape wine lands, the romantic town of Stellenbosch it is the second oldest town in South Africa. Gorgeous scenery, old Cape Dutch houses and picture perfect streets lined with old oak trees one can easily get lost in this quaint little town.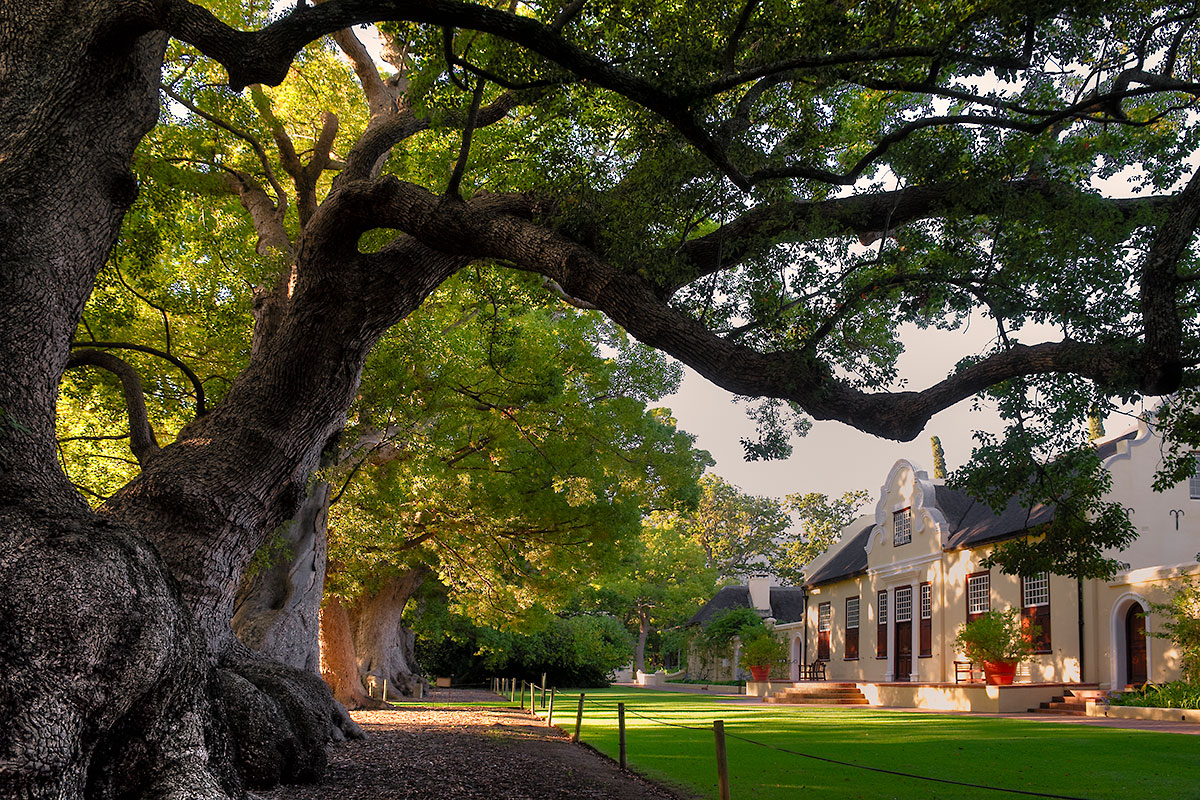 The culinary capital of South Africa, Franschhoek boasts some of the best restaurants in the country. Dotted with wine farms, many being of French origin, this is where the original French Huguenots settled in South Africa around 1692. Nowadays this little town is booming with the good vibrations of fine wine, great dining and gorgeous scenery.
Your day will include a visit to the Spier Wine Estate and their Cheetah Outreach Program, Raptor breeding program and outdoor African curio market.
Visit the main wine producing areas of South Africa.
Visit historic town of Stellenbosch.
Cellar tour and wine tasting.
Visit picturesque Franschhoek surrounded by striking mountains.
More shopping/browsing in shops unique to this town.
Arrive at the Lanzerac Hotel & Spa, located in the heart of Stellenbosch's legendary wine country. The Lanzerac has operated as a fine country estate since 1958 – but its vineyards were first planted more than 300 years ago. With many modern features and services, it still retains the Cape Dutch look, which has been so carefully preserved.The Lanzerac is situated on a private wine estate in the Jonkershoek Valley, surrounded by the Helderberg Mountains.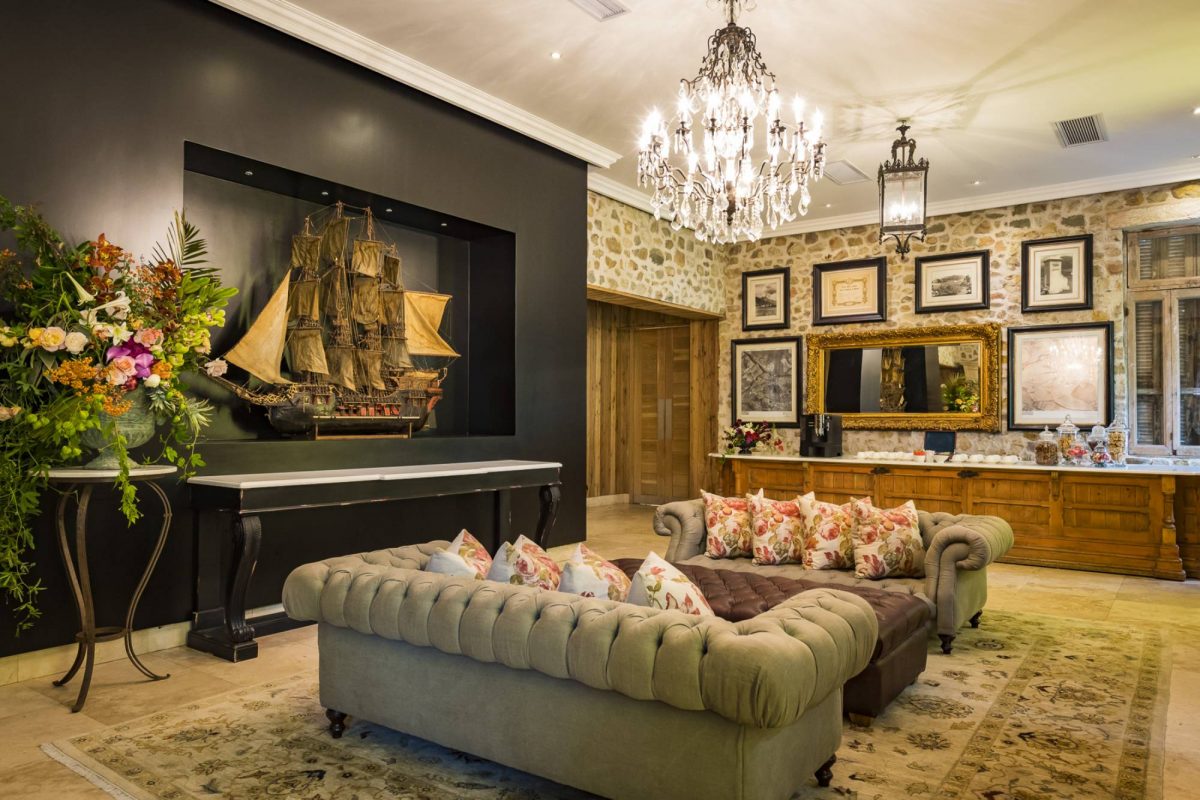 1 night at Lanzerac (B&B)
Day 10 Elephant Back Ride
Early morning return road transfer to the Cape Town airport. Depart Cape Town to arrive in Johannesburg. Connecting flight to Victoria Falls (Zimbabwe) departs around 10:40 am. Victoria falls arrival and customs clearance. USA citizens has to get a Zimbabwe visa upon entry, which cost $50. Please be sure to have the cash ready for payment upon arrival.Airport pick up for quick road transfer to the lodge.
Spend the rest of the day enjoying the elephants roaming the lodge grounds!The Elephant camp is situated only 10 minutes from Victoria Falls in a private concession within the Victoria Falls National Park. Bounded by the Masuwe River and the Zambezi gorges, The Elephant Camp has breathtaking views of the Victoria Falls as well as the spectacular gorges which separate Zimbabwe and Zambia.
With an emphasis on exclusivity, the luxury tented suites all have private decks and plunge pools. The suites are all equipped with indoor and outdoor showers, huge baths, private lounges, mini bar and tea/coffee stations, overhead fans plus air conditioning and are all mosquito proofed. The panoramic views of the Falls are breathtaking from the central area and the west wing of camp whilst the Batoka gorge yawns before one from the rooms in the east wing.
The Elephant Camp overlooks a waterhole that is fed by natural streams in the rainy season that rush down to meet the Masuwe River and the Zambezi gorges below the Falls. Walks and birding for guests supply boundless photographic opportunities. The Elephant Camp offers close interaction with wildlife – in particular elephant at the Wild Horizons Wildlife Sanctuary. All guests staying at The Elephant Camp will have an opportunity to meet the Wild Horizons elephants.
Elephant back safari -Enjoy a privilege once only reserved for kings!
Seated comfortably on the back of natures true "king of the beasts", experience an age old tradition whilst silently exploring the majestic grasslands of Victoria Falls National Park and marvel at the spectacular scenery of Masuie river plunging 120 m into the Zambezi river below.
Be witness to this mutually enriching and rewarding relationship between man and elephant in a modern day Africa. Sunrise safaris are run daily, promising you much more than just a game-viewing experience, but rather a closer insight into the worlds largest land mammal, the African Elephant.
1 Night at the Elephant Camp (Full Boarding)
Day 11 Victoria Falls
The Victoria Falls – Now in it's 150 millionth fantastic year - Reaches Its zenith in about May each year. It's a truly awe-inspiring experience – the sight, the sound, the smell; the humbling feeling that here indeed is Nature's Supreme Masterpiece. No photograph can begin to depict the reality…and nothing prepares you for your first sight.
Dr Livingstone was the first European to see the Victoria Falls in 1855. Known locally as Mosi-Oa-Tunya or "the smoke that thunders" because of the spray made by the mass of water dropping 100 meters below in the gorges. Livingstone renamed the falls Victoria Falls in honor of Queen Victoria. 50 Years later, missionaries and traders settled in the small Zambian town of Livingstone and the railway bridge over the Zambezi was built.
1 Night at the Elephant Camp (Full Boarding)
Day 12,13,14 Chobe river boat
Morning breakfast is followed by a road transfer to meet the transfer boats.Pick up time is between 3-4 pm.
There can be few natural wonders as synonymous with Africa's raw wilderness as the great Chobe River. These waters divide Namibia's Caprivi Strip from Botswana's Chobe National Park, and its exotic banks boast one of the densest populations of wildlife on the African continent. Teeming with life, this National Park sprawls across some 11 000 m of lush African bush, and is home to the largest populace of elephants in the world – currently estimated at roughly 120 000. Along with the elephants, leopards and lions, huge groups of buffalo, waterbuck, roan, eland, sable, giraffe, and, if you are lucky, one of the rare puku, can also be seen. In the river itself watch out for hippo and crocodile, and keep your binoculars at the ready for spotting a rich selection of bird life.
The house boat cruises along the banks of the Chobe River and is uniquely situated only a few kilometers from the point where 4 African countries meet, namely Botswana, Namibia, Zambia and Zimbabwe. It is also only 80km by road from one of the great wonders of the world - the magnificent Victoria Falls. The world famous Chobe National Park, with its teeming wildlife and approximately 120 000 elephants and over 400 species of birds makes this an exceptional wildlife safari experience.
Daily activities include: Water and land-based game drives and game viewing opportunities –Bring back the most amazing pictures!
3 nights on the Zambezi QUEEN (Full Boarding)
Day 15 & 16 BOTSWANA
Morning return road transfer to Kasane airport for your flight to Maun in Botswana. The flight duration is approx 35 min.
MOREMI
The Moremi Game Reserve features a diverse habitat home to a wide range of African wildlife. Guests can look forward to guided game drives where they might spot Wild Dog, Cheetah, Lion, Zebra, Elephant and Buffalo.
At the place where the life-giving waters of the Okavango Delta meet the vast plains of the Kalahari Desert, Mother Nature has created a sanctuary of Mopane forests, open grasslands, seasonal floodplains and riverine habitats, resulting in one of the most magnificent and welcoming animal environments in all of Africa. This place, a donation to the world by the Batawana Tribe, in the form of a Game Reserve, will be your sanctuary for the following two nights.
Xakanaxa is located on the banks of the Khwai River on the Xakanaxa Lagoon, in the heart of the Moremi Game Reserve. Rated as one of Africa's most beautiful game reserves, Moremi Game Reserve ensures that it is one of the only safari destinations which can provide guests with an authentic, year round Okavango Delta land and water safari experience. The reserve offers sanctuary to abundant herds of elephants, buffalo, giraffe, lechwe, wildebeest, impala, waterbucks, sable and more. Lions, leopards, cheetahs, wild dogs and hyenas complete the picture. Birding is also quite spectacular, especially during spring and summer when the migrants breed.
The stylish main buildings extend over the Khwai River and are set on raised platforms to maximize the views over the surrounding lagoons and islands. Constructed of local timber, reed and thatch, the elegant lounge contains a small but comprehensive library, dining room, expansive sundeck, plunge pool and sala with day bed as well as a fire-deck set under giant Jackalberry trees. Xakanaxa is able to accommodate 24 guests plus tour leader with 12 guest tents and 1 guide / pilot tent. Accommodations are canvas, Meru-style classic luxury safari tents on raised decks. Canvas window covers can be closed as desired or left open to view the surroundings through a mesh screen at each window. Each tent boasts en-suite facilities. Xakanaxa Camp's staff creates a camp environment in which guests experience a seamless service in the warm, friendly style for which Africa is famous. The camp operates on generator power, but at night all lighting is supplied by battery powered lamps, candles and paraffin lanterns, giving the camp an authentic African ambience.
Guests are offered two activities of their choice per day, or an all-day outing can be arranged. These activities are included in the accommodation cost and include: morning and afternoon game drives, and water game viewing in powerboats.
2 nights at Xakanaxa (Full boarding)
Day 17 & 18
Botswana's magnificent Okavango Delta is a maze of lagoons, lakes and hidden channels covering an area of over 16,000squarekminfloodandshrinkingtolessthan9,000squarekminthedryseason. Trapped in the parched Kalahari sands the fresh water oasis attracts wildlife that depends on the permanent waters of this unique wilderness.
Into the permanent swamp of the Okavango Delta, flows on average 11 billion cubic meters of water, this is enough water to suit the needs of an industrialized nation. The region is extremely flat, the gradient varying a mere 35 meters from the Panhandle in the north, to Maun in the south. It is so very flat it is rumored that the very large termite mounds are the highest landmarks in the Okavango Delta. It is said that termite mounds are the starting points of the Delta Islands. Through evaporation transpiration, salts are deposited on the periphery of the mounds base. Over a period of thousands of years, the process is repeated and in so doing, an island is born. An estimated 97% of the water that enters the delta is lost under the hot Botswana sun.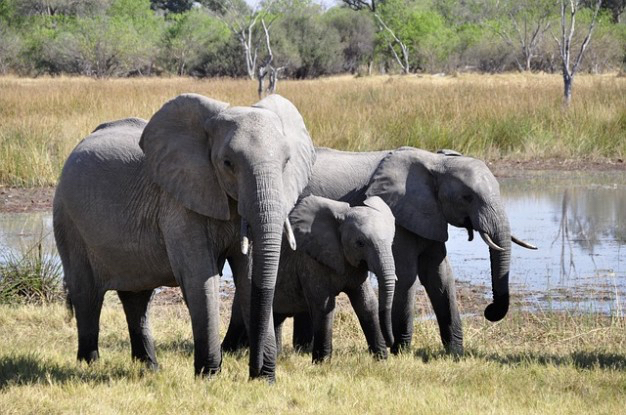 An elegant, elevated thatch and timber structure serves as the main building comprising a main sitting area, wildlife reference library, dining room and cocktail bar inviting a true sense of the African wilderness. Other facilities include a secluded swimming pool with sundeck and thatched boma where brunch and high tea are served.
The Okavango camp is situated on remote Nxaragha Island in the heart of the permanent Okavango Delta, assuring a year-round water wilderness experience. Botswana's magnificent Okavango Delta is a maze of lagoons, lakes and hidden channels covering an area of over 16,000 square km in flood and shrinking to less than 9,000 square km in the dry season. Trapped in the parched Kalahari sands the fresh water oasis attracts wildlife that depends on the permanent waters of this unique wilderness.
Okavango Camp accommodates only 24 guests in intimate exclusivity in 11 East African-style safari tents individually situated on raised teak platforms with en-suite ablution facilities and private sun-decks, most offering unsurpassed views of the Xakanaxa Lagoon.Game drives in open 4x4 vehicles, both in the morning and late afternoons, offer frequent sightings of lion, leopard and cheetah as well as wild dog. Alternatively, guest can explore the Xaxanaka Lagoon and surrounding Okavango channels by motorboat.
For those looking to get a little closer to nature, guided bush walks are conducted on a number of the nearby islands, offering an opportunity to track some of the larger land-based species that inhabit this water wilderness. Bird- watching opportunities are outstanding, and fishing for bream and tiger fish is also offered as an activity
All game-viewing activities are conducted by experienced guides and include exploring the Okavango Delta by mokoro or motorboat and tracking the larger game species on guided nature walks on the many surrounding islands!
2 nights at Camp Okavango (Full boarding)
Day 19
Morning breakfast is followed by a road transfer back to Maun airport for your flight back to Johannesburg and connecting flight back to the USA!
Cost is based on 2 pax traveling / per person sharing
Cost may vary depending on actual booking dates and currency fluctuations
Safari begins and ends in Johannesburg, South Africa.
Charter flights between camps in Botswana are included
All accommodation and activities as per the itinerary are included
BOARDING: Full Boarding (Dinner, Bed & Breakfast) / B&B (Bed & Breakfast). Drinks might or might not be included depending in the spesific location - please inquire if you need details
International flights between USA/Europe and Africa are not included in the cost
Child policy may apply
Single occupancy policy allies
Checking passport validity and sufficient empty pages needed in the passport remains the client's responsibility
Checking and obtaining the necessary/applicable VISA's for each country visited is the client's responsibility
They say that all bugs in Africa bite...but the Safari Bug is the worst of them all!