8 DAY Garden Route Golf Tour
• Garden route • Pinnacle Point golf • Big 5 Safari • Pezula Golf • Fan Court Golf • Outshoorn • Knysna
8 Days / 7 Nights
The Garden Route is a collective term encompassing many towns along the south west coast of the Western Cape Province. The Garden Route natural assets (just for starters) will have you question ever wanting to leave this idyllic spot!
The Garden Route spans South Africa's Western Cape coastal belt from Witsands whale birthing haven in the west to Plettenberg Bay's beach, polo and party-going pleasures. Then there's the arid geological basin of red sandstone along the interior, wedged between the fynbos-adorned Heidelberg in the west and Uniondale's eastern sheep farming and rock art treasures.
Its all about an abundance of blue skies, white sand beaches, rolling oceans, dramatic mountain scenery, indigenous fynbos, ostrich antics and local hospitality. A place where you can travel along routes where you are often alone on the open road or make for the malls and beaches on packaged tour comforts. Golden vineyards, sun-drenched orchards, beaches, pin-drop-silent forests, sweeping lakes and birds eye view passes add to the mix.
Beach junkies are spoiled for choice. Stilbaai's assets include treasures from the Stone Age and the Khoi people. Mosselbay and Albertinia share the pleasure of bungee jumping thrills withPlettenberg Bay. Mosselbay prides itself on offering the diverse experience of game viewing and that of stringing a hammock along beaches that serve up the worlds second most temperate climate. Still along the coast, Wilderness and Sedgefield comprise the Lakes Region, while golf, green coastal treasures and malls a-plenty rate among George and Knysna's endless offerings.
Leap into paragliding oblivion at the Wilderness, or embark on Mosselbay shark cage diving shenanigans. Try the bungi jump from the Gouritz River Bridge, which is flanked by Albertinia and Mosselbay.
Golf it up at George and Knysna. Mosselbay, on the other hand, allows you to quad bike and game view literally at one sitting. Put your 4×4 through her more groaning paces at Riversdale and the ostrich-adorned Oudtshoorn. Hiking and other mountainous exploits are notable at Knysna, Plettenberg Bay, and in the Oudtshoorn vicinity, while polo and all matters equine are de rigeur at Plettenberg Bay.Read more...
Day 1 ARRIVAL DAY
Arrival in at George Airport. Meet and greet with quick transfer to Mosselbay.
Mossel Bay is a harbour town on the Garden Route in South Africa's Western Cape Province. It's known for the wide Santos Beach and the 19th-century Cape St. Blaize Lighthouse, which offers bay views. The Bartolomeu Dias Museum Complex includes the Maritime Museum, the Shell Museum and botanical gardens. The Post Office Tree, a milkwood tree in the complex, has been used as a mail collection point since the 1500s.
The Pinnacle Point Golf Course is something truly unique for the discerning golfer. This 18 hole championship golf course was designed by the well-known South African golf course architect Peter Matkovich who opened the course together with Top Irish Tour Golf Professional Darren Clarke in November 2006.
Day 2 Golf at Pinnacle Point
Darren Clarke, who was also involved with many aspects of the Pinnacle Point course design, has said Pinnacle Point is "… the best golf course on the planet." Pinnacle Point was selected as one of the Top Ten New Golf Courses of the World for 2006 by the American publication Travel and Leisure in January 2007.
This cliff top Fynbos golf course inspires the golfer to play this challenging layout with a level of respect due to its dramatic views and breathtaking terrain. The 72 par layout is characterised by 7 majestic holes that line the Indian Ocean rock cliffs, 4 of which are played over ocean and cliff. All of the 18 holes have been designed to fit the lay of the land and it's a true testament to the spectacular design that this was achieved.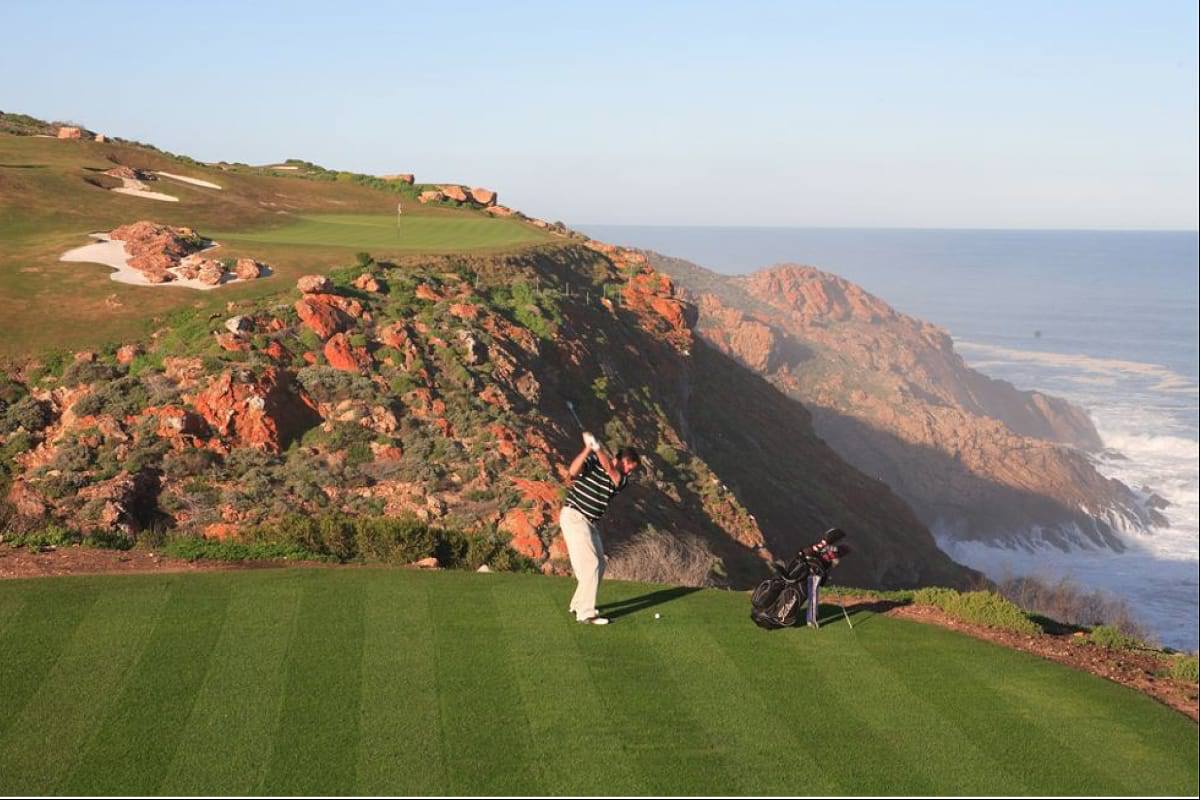 The reintroduction of the endemic fauna and flora to this estate has been hailed as a remarkable achievement by local and international ecologists and the preservation of this pristine Fynbos is an ongoing commitment by the Pinnacle Point Beach and Golf Resort.Pinnacle Point is located on four hundred hectares of prime land, of which 100 hectares is nature reserve, home to indigenous wildlife, birdlife and 264 varieties of fynbos.
Enjoy a full day of golf!!
Transfer to Botelierskop reserve for your overnight accommodation.
1 Night at Botelierskop Reserve (B&B)
Day 3 SAFARI at BOTELIERSKOP
A real Garden Route Safari experience! Enjoy close encounters with Rhinoceros, Lions (100ha enclosure), Buffalo, Giraffe, the rare Black Impala, Golden Wildebeest, Mountain Zebra, Hippos and more! Our Game Reserve is 3500ha and comprises of over 26 different species of animals and more than 200 bird species. Relax and enjoy being pampered in our new Botlierskop Bush Spa. The Bush Spa is situated on the riverbank surrounded by magnificent mountain scenery and consists of two treatment rooms named Fauna and Flora. Treatments include African massages, facials, manicures and pedicures. So take a step back, breath and let us pamper you, while surrounded by nature!
Spend the day at BoteliersKop Game reserve!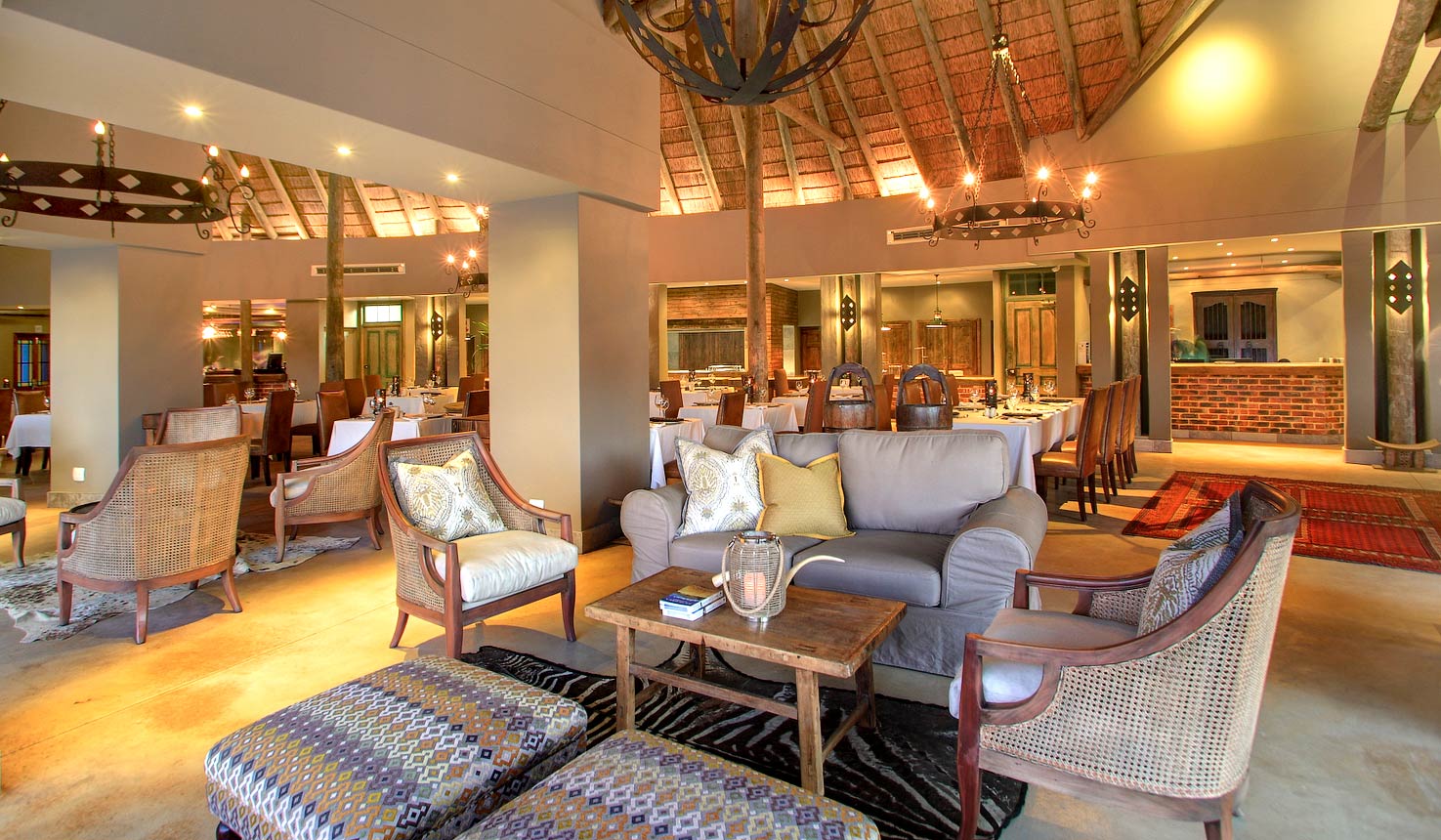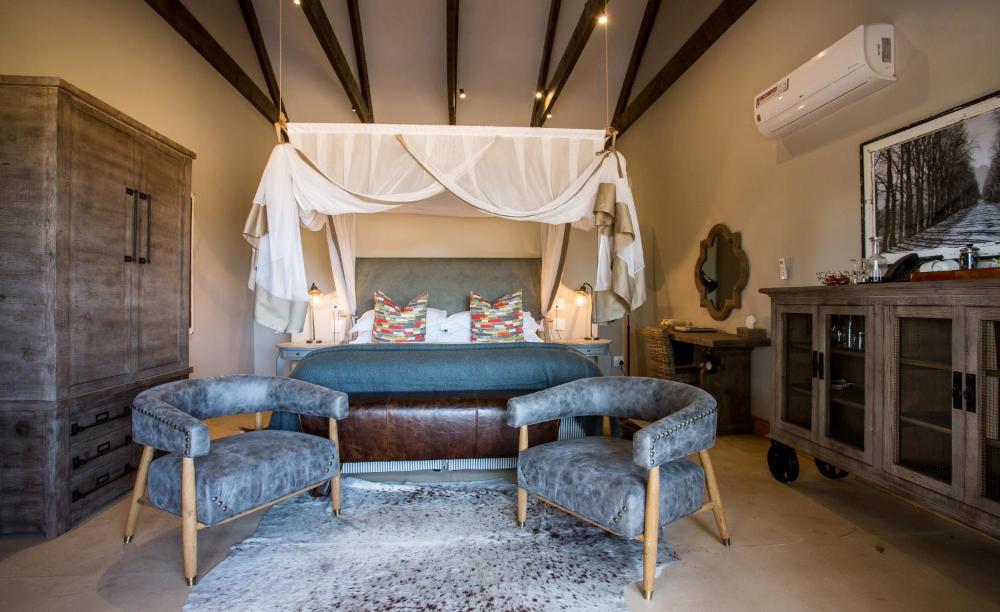 Situated on a 10,000 acre game reserve located between Mossel Bay and George, and set in amongst spectacular mountain ranges, the child-friendly (children aged 6 yrs and over are welcome) and malaria-free Botlierskop. Private Game Reserve offers an immense diversity of wildlife and activities coupled with luxurious, tented accommodation in beautifully appointed private suites discreetly positioned along the riverbank. The reserve comprises of over 26 different species of animals and more than 200 bird species. Wildlife at the reserve includes the rare Black Impala, Rhino, Buffalo, Giraffe, Elephants, Hippo's, Mountain Zebra, Eland and Lions (in a separate enclosure). Activities guests can enjoy includes, horseback safaris, guided game drives and spa treatments . Each of the 17 luxury tented and air-conditioned suites at Botlierskop are elegantly adorned in a romantic colonial theme with 4-poster beds draped in mosquito nets. The en-suite facilities are lavishly equipped with deep baths, open-air showers and stunning panoramas. The Manor House has 7 rooms, some with shower and bath and some with showers only, overlooking the plains of Botlierskop and guests have a good change of spotting game during the late afternoon.
1 Night at Botelierskop Reserve (B&B)
DAY 4 GOlF at FANCOURT GOLf COURSE
Morning transfer to George - Arrive at FanCourt golf course.
Fairview Golf Course is a 6,148 metre, par 72, 18 hole, course set over 60 hectares with three sets of tees to challenge all skill levels.
Fancourt is simply world class in all areas. There is golf, tennis, trail runs, an award winning hotel and spa and the number one golf course in South Africa.Ranked number 16 in South Africa by Golf Digest, Fancourt's Outeniqua golf course presents an 18-hole parkland layout that is tailored to provide a laid-back golfing experience. The course provides for easier game play than its counterpart, the Montagu while offering its fair share of challenges and water hazards on as many as 11 of its holes. Designed by Gary Player and named after the mountain range that forms its breath-taking backdrop, the course is pristinely conditioned to accommodate a large volume of players. A detailed stroke saver takes golfers through the course, providing distance measurements and images that assist players with navigating the course. A warm-up area, featuring a full-length range and a chipping and bunker practice area, is available to golfers before play. Golf carts are available for hire, weather permitting.
1 Night at FanCourt (B&B)
Day 5 VISIT OUTSHOORN
Spend the day exploring the area - guided tour over the Outeniqua mountains to Outshoorn.
Oudtshoorn is a town in the Klein Karoo area of South Africa's Western Cape. It's known for its ostrich farms and rests along the Route 62 wine route. Visit an Ostrich farm and explore the Cango Caves - a 20-million-year-old network of limestone chambers!
1 Night at FanCourt (B&B)
Day 6 GOLF at PEZULA GOLF COURSE
If you are looking for an exceptional golf course, an unsurpassed golf experience, and a course which rates amongst the most scenic – not just in the Garden Route, but in the world! – then you have found what you're looking for! Perched high on top of the famous Knysna Heads, the sweeping fairways offer spectacular views over both the Knysna Lagoon and town as well as the Indian Ocean.
Recognised as one of the best courses in South Africa and recently awarded the prestigious title of South Africa's best Golf Development, the Pezula Golf Course comes highly recommended.
Situated in the coastal town of Knysna, a Garden Route gem, the Estate offers dynamic views of the Indian Ocean, the Knysna lagoon and the Outeniqua Mountain Range. Knysna is known for its enchanting beauty and the Pezula Championship Course is right at its epicentre.
The course prides itself on its diversity of play saying that "no two challenges, or views, are alike." Designers Ron Fream and David Dale have sculpted the course into one of eyebrow bunkers, rolling fairways, indulgent greens and rich indigenous fynbos. There are three signature holes, the 13th through 15th and they are all on the cliff that overlooks the Indian Ocean. The 5 different tee options cater to all golfing levels and the course, that is difficult to navigate on foot, provides golf carts.
Visitors are of course welcomed from all over the globe so if you are looking for a Five Star golfing experience then you need look no further, consistently rated highly among the best in SA, Pezula is a true thoroughbred and offers the finest in first class facilities.
1 Night at Pezula (B&B)
Day 7 EXPLORE KNYSNA
Spend the day exploring Knysna!
Amidst indigenous forests and expansive lagoon views is the quaint and discrete town of Knysna. Situated on the Garden Route, Knysna provides a blend of both relaxation and adventure. Popular destinations for children abound; from Monkeyland to the Knysna Elephant Park (all within easy access from the N2). For the sophisticated tourist there are champagne and oyster cruises on the placid Knysna Lagoon. Enjoy fine dining options around the Knysna Waterfront and beer tastings at our very own Mitchells Brewery.
Lunch at Simola Golf estate!
1 Night at Pezula (B&B)
Day 8
Morning return road transfer to George airport for your flight back to Johannesburg and connecting flight back home....
POR
*NOTES
Cost may vary depending on actual booking dates and currency fluctuations

Cost is per person sharing / double occupancy

Safari begins and ends in Johannesburg, South Africa.

All accommodation and activities as per the itinerary are included

BOARDING: Full Boarding (Dinner, Bed & Breakfast) / B&B (Bed & Breakfast). Drinks might or might not be included depending in the specific location - please inquire if you need details

International flights between USA/Europe and Africa are not included

Child policy may apply

Single occupancy policy allies

Checking passport validity and sufficient empty pages needed in the passport remains the client's responsibility

Checking and obtaining the necessary/applicable VISA's for each country visited is the client's responsibility
They say that all bugs in Africa bite...but the Safari Bug is the worst of them all!
They say all bugs in Africa bite...But the Safari bug is the worst of them all!