Lake Mburo national park
Lake Mburo National Park is situated between Masaka and Mbarara district…an area rich in diversity with rolling endless hills, golden Savannah's, ancient rocks, forests and swamps not forgetting the lakes. The main lake found within the park is Lake Mburo with other four within the parks boundaries but a total of fourteen lakes surround the glorious park.The park covers an area of 370km².
Almost a fifth of the Park's area consists of wetlands - both seasonally flooded and permanent swamps. The various types of swamps are home to a wide variety of wetland birds, as well as the shy, rare sitatunga antelope. Lake Mburo 's surface and its fringing vegetation are always changing, and it is delightful to take a boat out and experience the lake's moods and watch the numerous hippos, some crocs and an incredible amount of African fisheagles. The lake is also one of the best places to spot the rarely seen African finfoot and white backed heron amongst many other water birds.
Lake Mburo is endowed with several wildlife species to mention recently translocated giraffes, buffaloes, elands, waters bucks, antelopes, zebras, oribis, topis , warthogs as you take a boat cruise on lake Mburo you will be in position to observe , hippos and crocodiles.
Lake Mburo is the only park in Uganda with eland, impala and klipspringer. It is also home to the largest population of zebra in Uganda estimated at about 5,000 and probably contains the highest concentration of leopard found anywhere in Uganda. Buffalo, waterbuck, topi and warthog are also very common. Reedbuck and oribi can also be spotted in the open valleys. Hyena, genet, bush pigs and white tailed mongoose are often seen on night game drives.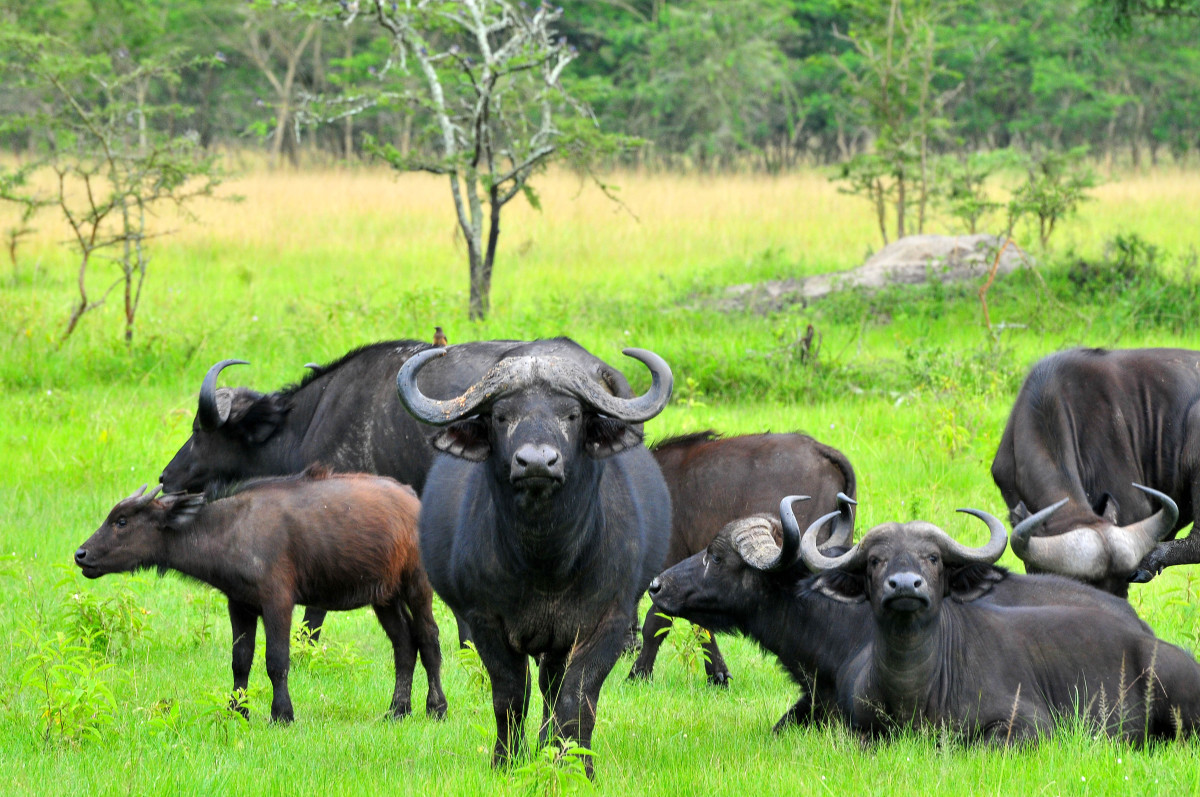 Lake Mburo National Park is home today to over 350 species of birds such as the Red-faced Barbet, only seen in Lake Mburo, the endemic African Finfoot and the rare Shoebill also thePapyrus Yellow Warbler, Saddle-billed Stork, Brown-chested Lapwing, African-wattled Lapwing, Carruther's Cisticola, Tabora (Long-tailed) Cisticola, African Scops Owl, Abyssinian Ground Hornbill and White-winged Warbler. Lake Mburo National Park is a park that Birders delight in and other visitors delight in the variety of colorful species of birds found here.
Lake Mburo National Park lies in a rain shadow between Lake Victoria and the Rwenzori Mountains, and receives an average of 800 mm of rain a year. Being near the equator, the rainfall pattern is bimodal, with the long rains occurring from March to June, and the short rains from September to December.