CHOBE RIVER BOAT
Cruising along the Chobe River with a fresh cocktail in your hand, watching an orange-glowing sun sink slowly below the horizon... this experience is so much more than a river cruise! It is a magical experience, where you can get extremely close to very relaxed wildlife.
This 45 meter long luxury boat cruises gently down the river, with amazing views over the Caprivi Strip on one side and Chobe National Park on the other.
This luxury vessel has three floors with fourteen cabins on the first and second floor. Spacious, modern, beautifully decorated, with comfortable beds and spa-like bathroom – just to name a few characteristics. There are ten cabins with a small private balcony and four larger master cabins. Cabins are twin or double, en-suite with a toilet and shower. There are fans and shutters to keep the cabin cool. All the main areas are on the top floor (for the best views), air-conditioned and protected by mosquito screening. Simply nestle yourself into one of the cosy nooks, glimpse at game through a telescope, order your favourite drink at the bar, or dip in the plunge pool with a 360°-degree view. And let's not forget the culinary delights, served on board. From a creamy bowl of warming porridge in the morning, to a decadent white chocolate parfait at night: dining here is a treat. The well-trained kitchen staff effortlessly combines local flavors with culinary delights from the west, creating mouth-watering dishes, suited for true gourmet palates.
When you wake up and peek through the curtains, you will see elephants, hippos, birds - all indulging in the fresh waters of the Chobe River. Once on board, flexibility is key. Feel like venturing out in a smaller boat, or trying your luck during a tiger fishing trip? It's all possible. Leave the 'mother ship' by hopping on a smaller, yet comfortable, tender boat to get even closer to the wildlife. You can also lean back and relax all morning on the viewing deck to the background sound of rippling water.It is all about finding your own flow.
A boat safari on a floating boutique hotel is an entirely different experience from a land-based safari!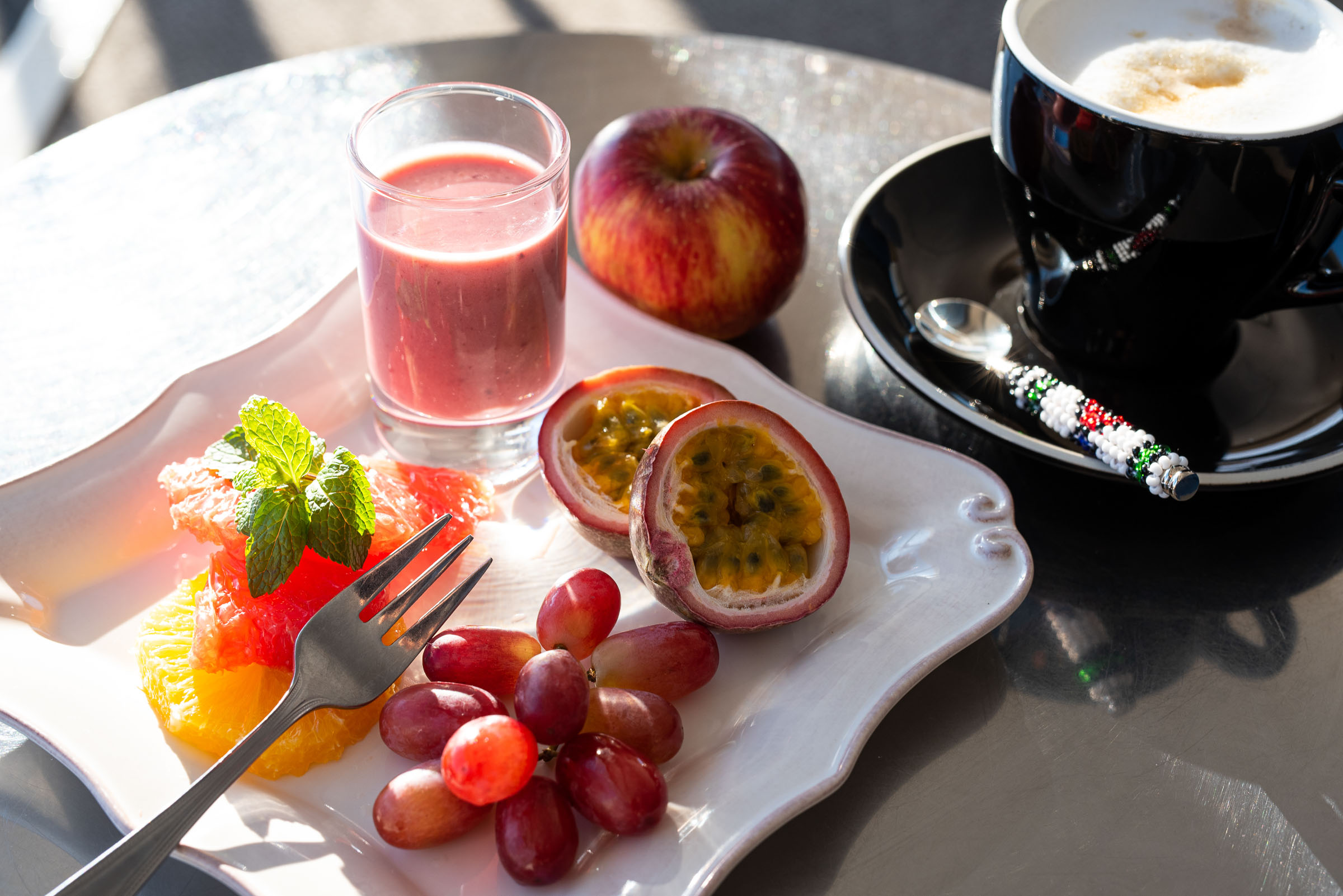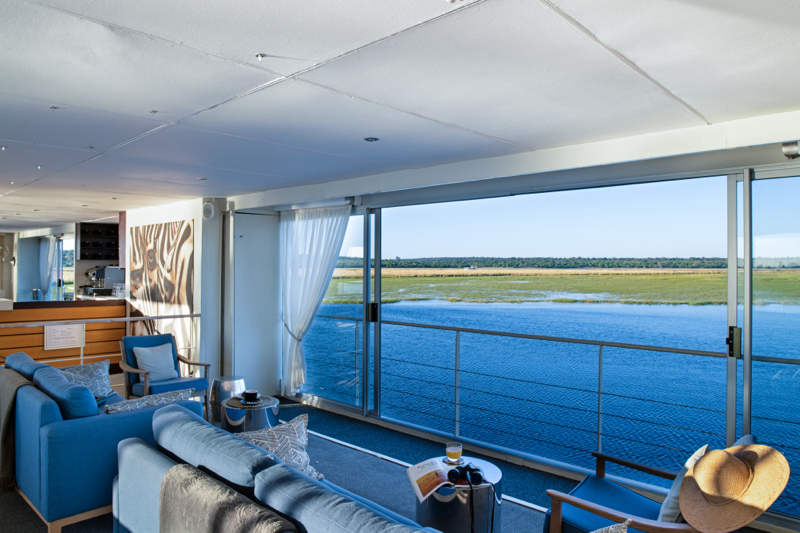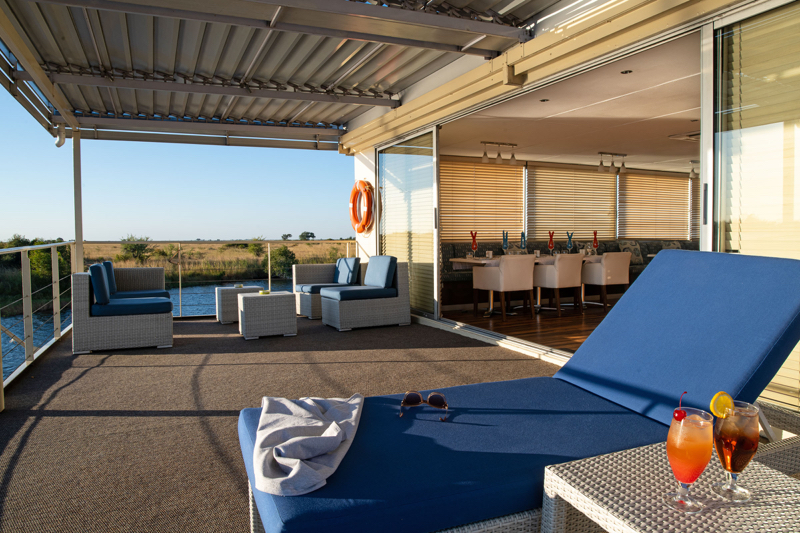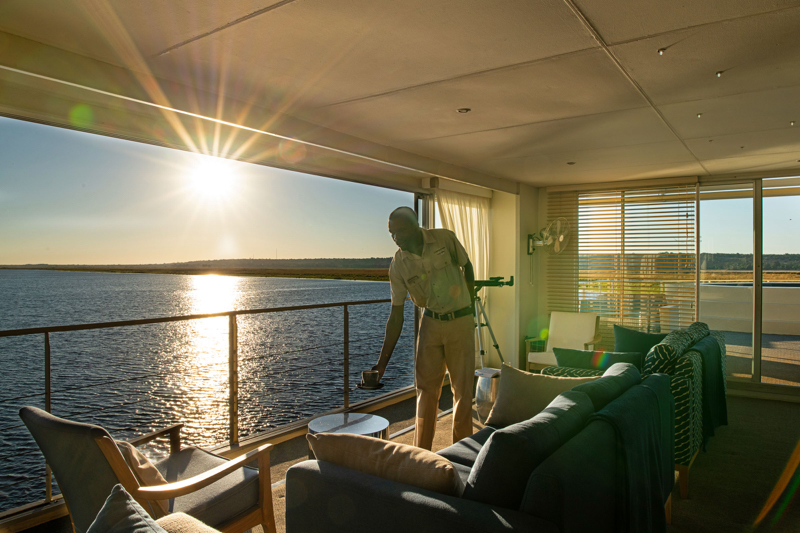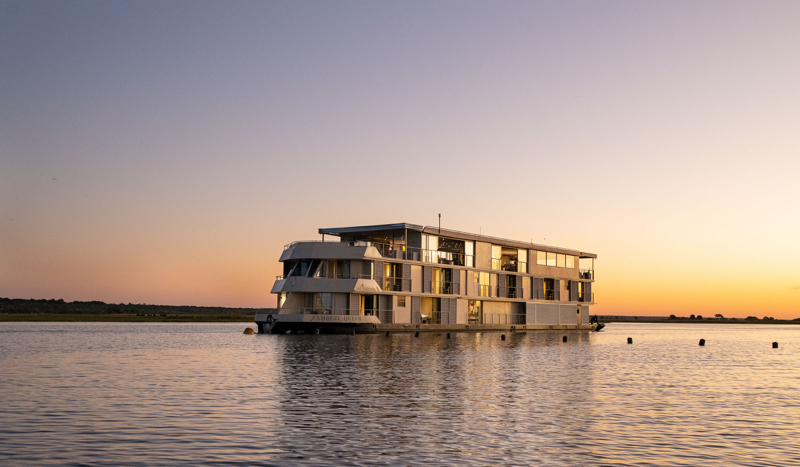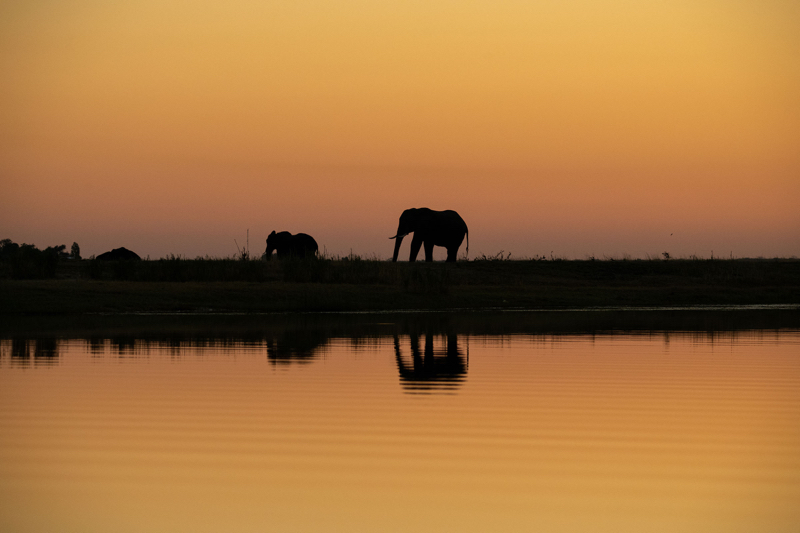 You will cruise along one of the most game-dense areas of Africa. During dry season, islands along the riverbank of the Chobe river stay green, attracting wildlife from all over. From tender boats, enjoy water-based safari activities, full of elephant watching (Chobe is home to one of the biggest elephant populations in the world!), spotting rare birds, buffalo herds, prides of lions, hippos lolling about and much more. Like fishing? Tiger and bream fishing tours are offered in season. Go on a tour to a local village to see more of Botswana's rich culture or sign up for a game drive into Chobe National Park (at an additional cost). Activities are in the mornings and afternoons, with a delicious lunch in between during the hottest hours of the day (and perhaps followed by a siesta?). After the afternoon safari activity, sundowners, dinner and amazing African skies are served. The boat is moored in Namibian waters every evening, to provide you with the most spectacular views of the African sunset. Yes, this truly is smooth sailing in style!